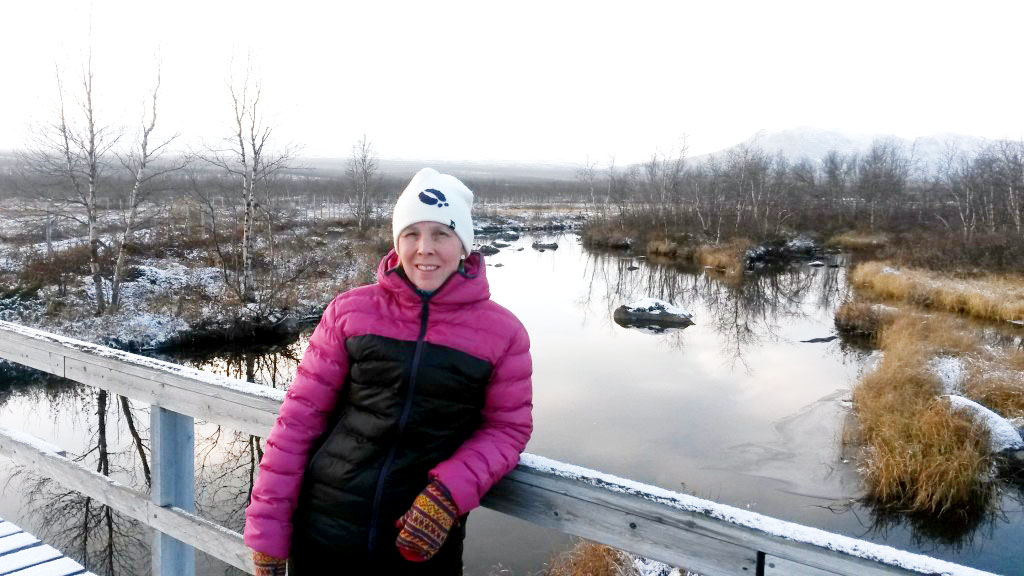 Att leva nära naturen och fjällen där jag trivs med livet är viktigt i mitt kreativa arbete. Den samiska kulturen med renen och naturen är stora kraftkällor.
Sara Svonni är samisk kläddesigner som bor i Tärnaby med sin familj, sambo och två barn. Sara Svonni Design startades 2002. Sara är uppvuxen i en renskötarfamilj inom Gabna sameby, Kiruna, och har alltid varit intresserad av att sy både kläder och duojdi – traditionell sameslöjd. Duodjin har funnits omkring henne sedan barnsben. Farmor och moster är hennes stora förebilder. Sara Svonni är utbildad vid Samernas Utbildningscentrum i Jokkmokk. Först inom Duodji – traditionellt samiskt hantverk, skinn och textil och därefter vid Päls- och skinnkonfektionslinjen.
Skapandet innefattar allt från design och mönsterskapande till tillskärning och sömnad. Det resulterar i moderna kvalitetskläder och specialdesignade mössor i de finaste materialen. Kläder som passar dagens mode- och kvalitetsmedvetna människor. Sin inspiration får hon från materialen, snitten och färgerna i samernas traditionella kläder och hantverk. Men även från dagens mode samt mode från andra tidsåldrar.
"
Att leva nära naturen och fjällen där jag trivs med livet är viktigt i mitt kreativa arbete

."
Practical

Comfort

Fashion

Research
To live close to nature and the mountains where I enjoy life is important in my creative work.
The Sami culture with the reindeer and the nature are large sources of energy.
Sara Svonni is a Sami clothes designer who lives in Tärnaby with her family, cohabitee and two children. She founded her company Sara Svonni Design in 2002. Sara has grown up in a reindeer herding family in Gabna, Kiruna and has always been interested in sewing clothes and Duodji – traditional Sami handicraft. The traditional Sami handicraft has she grown up with. Her aunt and grandmother are her great sources of inspiration. 
Sara Svonni is educated at the Sami Education Centre in Jokkmokk. She started her education within the traditional Sami handicraft, hides- and textiles, and later at the course for fur- and hides clothing at the same school. Creation includes everything from design and pattern making to cutting and sewing. This results in modern quality clothing and specially designed caps in teh very finest materials. Clothing that is perfect for today's fashion- and quality conscious people. She is inspired by the materials, the cuts and the colours of the Sami traditional clothes and handicraft. Inspiration also comes from fashion of all times, of course also from the fashion of today.